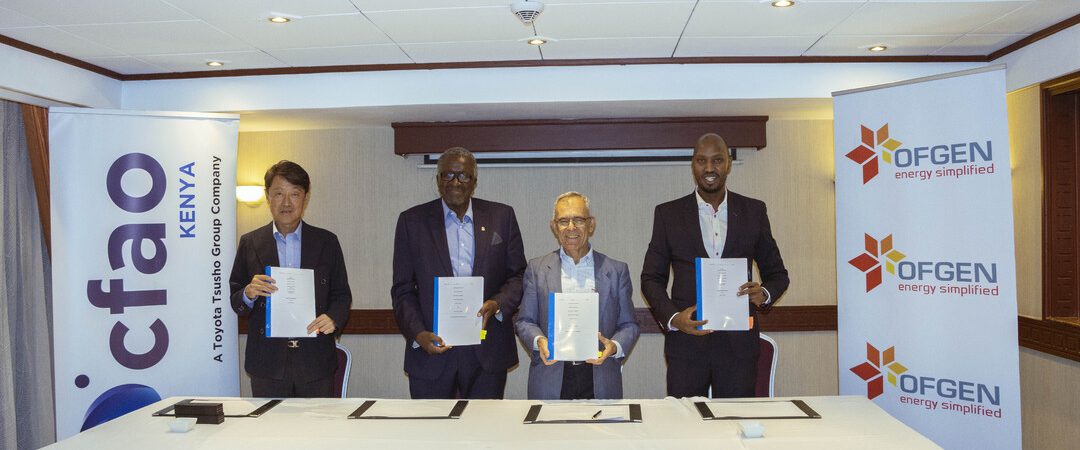 Nairobi, Kenya, July 4th, 2022 – CFAO Kenya Limited a subsidiary of CFAO group (Corporation for Africa and Overseas) proceeds to invest in OFGEN Limited a leader of solar PV installation for commercial and industrial use in East Africa.
CFAO Kenya has worked with OFGEN Limited since 2018 to solarize CFAO Group-owned premises within Kenya and Uganda. CFAO group will continue to leverage on OFGEN's expertise in commercial solar PV installation to solarize all its business premises within the East African Region, in line with the Group carbon neutrality programme and commitment to 50% reduction in its CO2 emission by 2030. With this investment, CFAO group's ambition is also to contribute to promoting initiatives towards expanding the use of renewable energy in Africa.
Click on this link : More about this investment in OFGEN Limited by CFAO Kenya Limited.
Photo credit : CFAO Kenya Limited
From Left: Mr Toyoki Kuno – MD CFAO Kenya, Amb. Dennis Awori – Chairman & Country Delegate, CFAO Kenya, Prof. Izael Da Silva – Chairman, Ofgen Limited & Mr Jibril Omar – MD, Ofgen Limited