With a pharmaceutical market worth $20 billion, bringing people quality products at affordable prices remains a key challenge in Africa. CFAO Healthcare continues to improve healthcare on the continent by producing and distributing pharmaceutical and medical products along with related services.

milliard d'€
billion in revenue



retail
pharmacies receiving deliveries several times a day

A broad range of healthcare services
Thanks to an efficient logistics platform, the integration of the supply chain and its many anchoring points, CFAO Healthcare is the privileged interlocutor of the largest international pharmaceutical laboratories. Historically wholesaler, distributor and importer of drugs and OTC products, it is also expanding into licensed production for the private sector, and in production of medical kits for the public sector.
A specialist in pharmaceutical

logistics
We supply wholesaler-distributors in over 27 countries in Sub-Saharan Africa including 6 French overseas territories through our subsidiaries Continental Pharmaceutique and E.P. Dis. Our expertise stems from having complete control over every aspect of pharmaceutical logistics, in particular of the cold chain ensuring medicines are kept in an optimal environment every step of the way, from warehouses to pharmacy shelves.

Around 20,000 m2
of warehouse and logistics space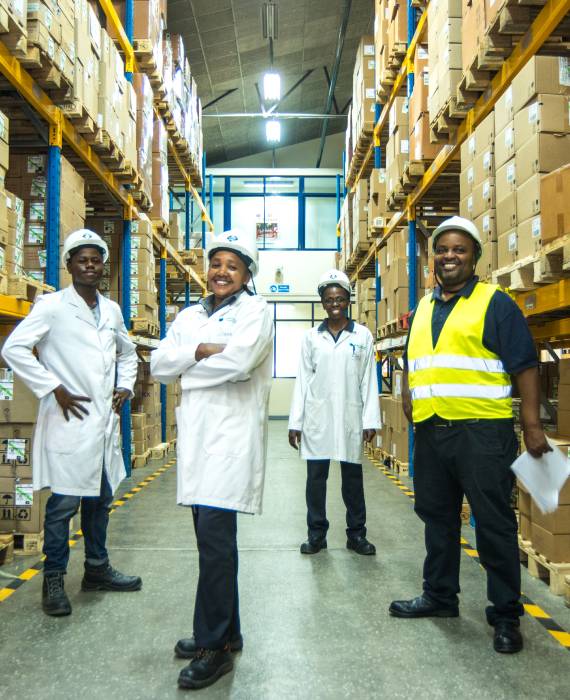 Serving

government bodies

and

NGO's
We supply generic medicinal products, medical devices and equipment to NGOs, hospitals and clinics through our subsidiaries Missionpharma and Fazzini.
We have also expanded our offering by developing our own PharmaDanica® brand of medical consumable to provide pharmacists with
high-quality products at affordable prices.

97 000
orders a year
Manufacturing

medicines
We are licensed to manufacture locally for a number of companies through our subsidiaries Propharmal in Algeria and Maphar in Morocco.
These operations create local jobs and help the regional sharing of expertise gained from leading international pharmaceutical companies.
It also contributes to the construction/consolidation of the industrial network in Africa.
+50 partner laboratories (manufacturing and import under license)

Healthcare innovation
We have also developed diagnostic and healthcare centers in Nigeria and Ghana under the Euracare brand. Here we develop state-of-the-art solutions for remote diagnosis, medical imaging and minimally invasive procedures, backed by a network of specialists who interpret data remotely.