MOBILITY
HEALTHCARE
CONSUMER
INFRASTRUCTURE
With a revenue of over €7.9 billion, access to 46 of the 54 countries on the continent, and 22,600 employees, CFAO is a key player in mobility, healthcare, consumer goods, infrastructure and energy.
The Group partners with leading international brands and covers the entire value chain – imports, production and distribution – in line with the best international standards, drawing on over 170 years of hands-on knowledge and local expertise.
CFAO pursues a twofold strategy, focusing on manufacturing to promote local production, and distribution through its distribution network, Africa's largest, to offer tailored, affordable products and services to people across the continent.
With Africa For Africa
CFAO OVERVIEW

22,600
employees

86 operating units

Head office
in France

over 170 years
in Africa
Presented in 39 African countries,
6 French overseas departments,
Access to
46 of the 54 markets in the continent
REVENUE
€7.9 billion in revenue in 2022, including  90 % in Africa
CFAO pursues its strategy across the entire value chain, building on its established expertise in imports, wholesale and logistics for the automotive, healthcare and consumer goods industries. Further upstream, the Group's manufacturing operations promote local production and help regions increase their self-sufficiency, as illustrated by our automotive assembly plants, pharmaceutical production in North Africa and the new multi-purpose factory concept in Cote d'Ivoire. Downstream, our distribution network is the largest in Africa and is able to bring a tailored, affordable array of products and services to market for a broader range of consumers.
CFAO is also expanding into B2C through its automotive distribution services in South Africa and its shopping centre developments in West Africa.

« Africa is a cornerstone of our strategy. The continent is experiencing unprecedented change and CFAO's
22,600 employees work daily to support its growth. Africa is our history. Africa is our future. »
Richard Bielle, CFAO Chairman & CEO
Our key commitments in Africa
Contribute to a faster sustainable economic growth than the rapid growth of the African population
Africa continues to step up its development and shape its future, with annual growth of 5% since the 2000s* and a population set to reach 2.4 billion people by 2050**. As an economic stakeholder, we support this growth. Through our pan-African presence and our understanding of the continent's different markets, we invest in a number of formative projects: production sites, shopping centres, etc.
*World Bank Data
** UN forecast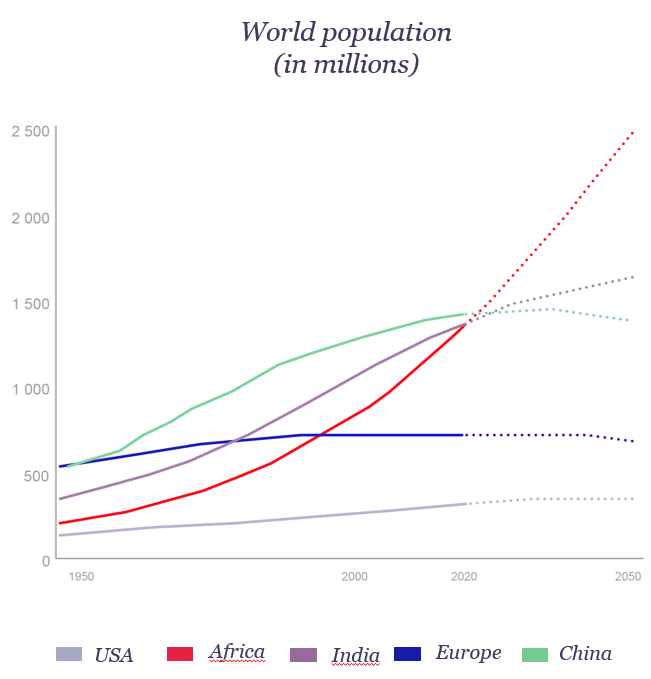 Source: United Nations, Department of Economic and Social Affairs, Population Division (2019).
Support industrialisation in Africa
African industry currently represents between 1% and 3% of global production. Industrialisation and local manufacturing are crucial to economic development on the continent, a movement in which CFAO plays an active part. The Group operates 16 production and assembly sites for the automotive, healthcare, plastics, beverage and cosmetics markets. The Heineken-partnered BRASCO brewery in Congo and the Yamaha assembly plant in Nigeria are both shining examples.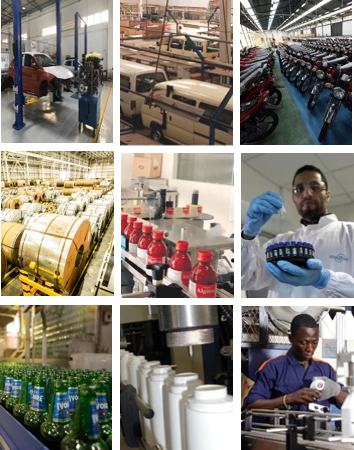 Support Africa's emerging middle class by creating jobs and providing affordable products
With a booming middle class expected to represent 224 million "consumers" by 2040, demand for consumer goods and capital goods is soaring. To adapt to these new developments, CFAO is strengthening its manufacturing and distribution activities. We offer a wide range of passenger vehicles, along with quality healthcare solutions and FMCG at affordable prices. We also cater to middle-class growth by creating jobs in 40 countries.
*CFAO, IPSOS, BearingPoint (2015)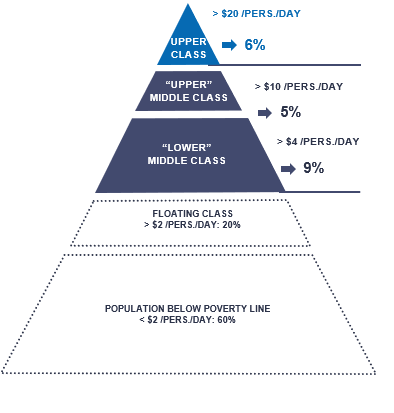 Source: BearingPoint based on ADB data, 2015
The analyses are based on a study conducted by BearingPoint and Ipsos for CFAO in 2015.