We continue to develop a range of  3 different food retail formats (hypermarket, supermarket and cash & carry), shopping centres and a club of brands in Côte d'Ivoire, Cameroon and Senegal to cater to demand from Africa's middle-class consumers. Our goal is to combine an international offering with local and regional products at competitive prices.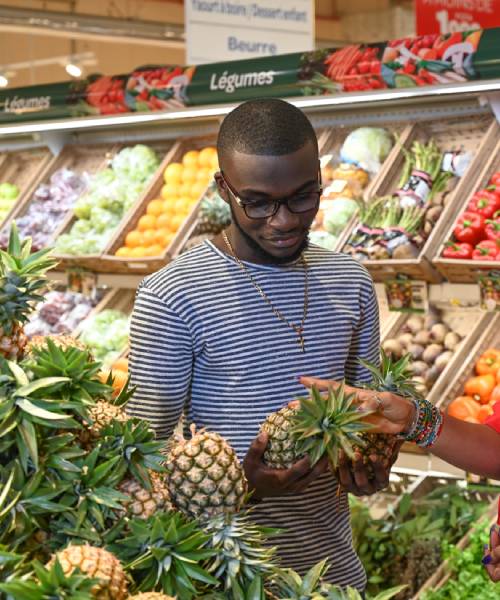 Carrefour: quality products
at competitive prices
We provide a wide range of quality products in partnership with Carrefour hypermarkets and smaller Carrefour Market supermarkets, many sourced from local suppliers. This allows us to meet the expectations of customers keen to know where their products come from, by ensuring complete traceability and unbeatable prices.
Supeco targets the budget segment and gives both individuals and businesses the option to buy retail or in bulk. The first Supeco store opened in April 2019 in Dakar, Senegal.
14 in Côte d'Ivoire
6 in Cameroon
5 in Senegal
PlaYce: shopping centres as social hubs
CFAO Consumer Retail opened its first shopping centre in Côte d'Ivoire, PlaYce Marcory, in 2015, followed by a second, PlaYce Palmeraie, in 2017 and more recently in Cameroon early July 2022 with PlaYce Yaoundé. PlaYce shopping centres are also social hubs, fostering a sense of community. They include a Carrefour supermarket, food court and shopping arcade with an array of different stores and services.
5,000,000
visitors to our PlaYce shopping centres in 2020
Brand franchises
CFAO Consumer Retail has established preferred partnerships with four leading international brands in three key areas: clothing with Lacoste and Jules; beauty with Beauty Success; toys and games with La Grande Récré. These brands are an integral part of our shopping centres and we help them grow in high-potential markets by offering middle-class consumers an array of quality products and services tailored to their needs.
Expanding the offering
through online sales
In 2018, CFAO Consumer Retail and Carrefour established a partnership with African e-commerce giant Jumia, enabling customers to order Carrefour products online in Côte d'Ivoire and Sénégal.