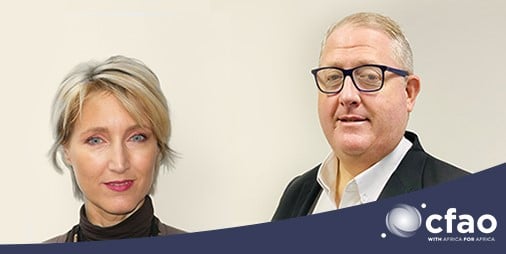 Sèvres, May,26, 2020 – The CFAO Group has announced the appointment of Annie DATEU and Andrew VELLEMAN to the Executive Committee as of 1 April 2020.
Annie DATEU has been appointed Corporate Secretary for the CFAO Group. She joined CFAO in November 2011 to head the legal team at Eurapharma (CFAO Healthcare, division responsible for manufacturing and distributing pharmaceutical products). Her previous experience includes management positions at several international pharmaceutical and industrial companies. As Corporate Secretary, Annie will oversee legal affairs, risk management, safety and compliance, along with development and strategic planning for the Group.
Andrew VELLEMAN has been appointed CEO of the CFAO South Africa Division, which employs nearly 6,250 people and has a revenue of €1.8 Billion on annual basis. Andrew holds dual citizenship in South Africa & Netherlands and began his career at Mazars in South Africa and EY in the UK before taking up financial roles in the South African food distribution industry. Andrew joined Toyota Tsusho Corporation (TTC) in 2003, before being named Operations Director of the CFAO Production Support Division in 2018.
Annie DATEU and Andrew VELLEMAN replace Olivier MARZLOFF and Hiroyoshi YOSHIKAWA, respectively.
Richard BIELLE, CFAO Chairman and CEO, said: "I would like to thank Olivier MARZLOFF and Hiroyoshi YOSHIKAWA for their significant contribution to the development of our Group. I wish Annie DATEU and Andrew VELLEMAN much success in their new assignments. Their achievements in their previous roles, their knowledge of our markets and their insights into the CFAO Group will be valuable assets."